You invested in Office 365 for you users, but you don't want to annoy them with prompts where they have to put their usernames and passwords in, certainly as you have domain joined devices. For Office 365 ProPlus License Activation utilizing the SSO capabilities, you either had to put in an ADFS infrastructure or.. available today.. PtA-SSO!
So what happens.. well by default if you install Office 365 and you start it for the first time, it will ask you for activation. Your users need to provide username and password in order to link the installation to their account. With PTA/SSO by default it will only ask for username and then activate in the background. However, when we want to remove the Licensing window all together we can do that too:
Join the computer to the domain
Configure PtA – SSO (intranet URLs for IE settings)
Set the mail attribute of the user account to match the UPN used for login (usually email address)
Install Office 365 ProPlus (downloaded from the user portal)
Start Word or any of the applications and click OK on the Accept window
Office is now automatically activated in the background. You can check this through your installation status in the Office portal.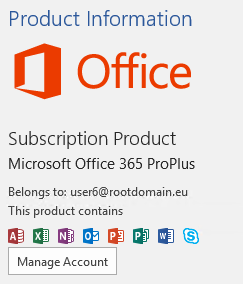 [ps is you have an ADFS infrastructure, this works the same way – add the mail attribute and auto Activation works – as long as the user can automatically login to the ADFS server]